Shmoo Milkshakes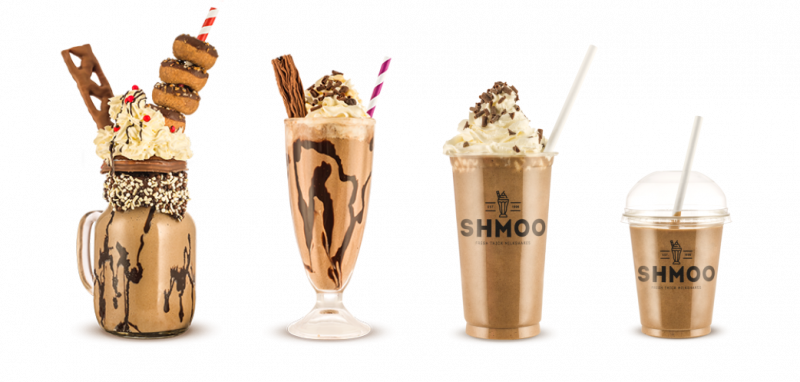 Shmoo milkshakes are child friendly with natural flavours and colours. Low in sugar (5%), low in calories (95 per 13fl oz), 99% fat free, gluten free, suitable for vegans and vegetarians and with the added goodness of milk which is high in protein.
The Shmoo milkshake brand offer a delicious range of tasty milkshakes. Flavours include Chocolate, Strawberry, Banana and Vanilla. Shmoo milkshakes are easy to make with no fuss and no waste.
Selling milkshakes is very profitable, for example a 13oz Shmoo milkshake will cost you around 45p including the milk, milkshake mix, branded cup, dome lid, straw and a dash of toppings. Retail price for this size ranges between £1.50 – £1.95.
---
Dinkum Shmoo Milkshake Makers
When you buy a milkshake machine starter kit, you will receive everything you need to sell premium milkshakes - and get your investment back. Each kit comes with a commercial blender, 3 tubs of Shmoo milkshakes, enough branded cups with dome lids to serve all the shakes, toppings and high quality point of sale to let your customers know your are selling a premium branded milkshake brand. When you buy replacement milkshake tubs, you also have the choice of optional 13oz or 22oz branded P.E.T. cups and domed lids plus paper straws.
Making Shmoo milkshakes is easy;
1. Pour chilled milk up to the line on each milkshake branded cup
2. Add a scoop of milkshake mix
3. Place onto the Dinkum blender for 20-30 seconds
4. Add optional Dinkum toppings and a dome lid then serve
Buy your Dinkum Shmoo milkshakes online from SlushCo and you will receive your order next working day.