Shmoo Chocolate Milkshake Mix – Optional Branded Milkshake Cups, Dome Lids & Straws Pack
Profits with Shmoo Milkshakes are as healthy as the shakes. The total drink cost which includes the milkshake mix, branded Shmoo cup, dome lid, straw and milk, is just 45p for 13fl oz and 67p for 22fl oz. Mix using your Dinkum spindle mixer with ice cold semi-skimmed milk for perfect results.
Shmoo offers a new range of great POS items to promote the product including branded Shmoo clear plastic cups with dome lids to make the thickshakes in, and optional toppings to add value to your thickshake varieties.
Each 1.8Kg Shmoo tub will produce 100-120 x 13oz Milkshakes or 75-86 x 22oz Milkshakes.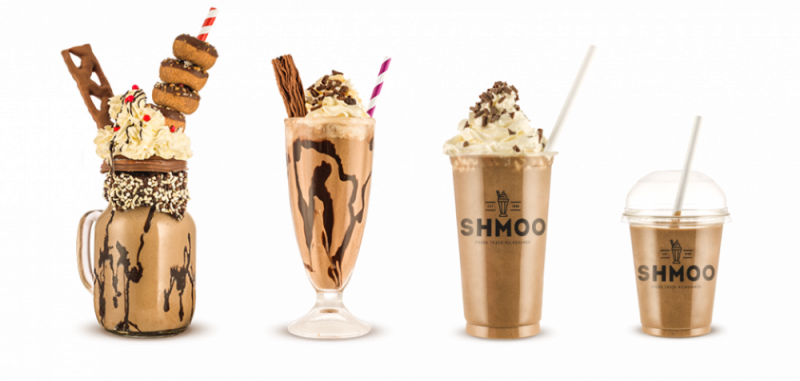 Shmoo Milkshakes:

✓ Strong branding with full Point Of Sale
✓ Profits between 60% and 85%
✓ Optional branded disposable cups, dome lids & straws with every tub of mix
✓ Choose between no cups, 120 x 13oz Shmoo Cups or 86 x 22oz Shmoo Cups
✓ Easy to prepare milkshakes using the Shmoo spindle blender
✓ Healthy Option – when made, there is less than 50% sugar when compared to most fizzy drinks and squashes.
✓ Low in calories, low in fat, gluten free and suitable for vegetarians. Natural flavours and colours plus the added goodness of fresh milk.
Shmoo milkshakes have great impact when served in the branded Shmoo take away cup. You only require half a cup of semi-skimmed milk, which doubles in volume when blended with the mix and makes a full cup of rich and creamy milkshake. Glasses are also available on request.
How to make Shmoo Chocolate Milkshakes.
Pour fresh cold milk into the branded cup, up to the black line (just under half way up), add a scoop of Chocolate milkshake mix, place into the spindle blender for 20 seconds, that's it. If required, add squirty cream and toppings to add even more value and for which you can charge extra.
INGREDIENTS
Sugar, Fructose, Fat Reduced Cocoa Powder (7%), Flavourings, Maltodextrin, Dextrose, Thickeners (Xanthan Gum, Carrageenan Gum, Guar Gum, Locust Bean Gum), Colour (Caramel Powder), Cocoa Fibre, Anti-Caking Agent (Silicon Dioxide).
ALLERGENS
For allergens see ingredients in Bold.