UK Slush Market
Slush in the UK presents an opportunity to enjoy large profits by retailers, which tends to be incremental to your business as it is usually impulse driven. It's difficult to accurately measure the market size in the UK but it is estimated to exceed £350M. The majority of which is independent retailer driven.
The slush market was pioneered in the 1970's by entrepreneur Will Radcliffe when he launched Slush Puppie in Cincinnati, Ohio and within 25 years was operating in 44 counties. With the business being sold to Cadbury Schweppes in 2001 and subsequent restructures, the brand seemed to lose focus in the UK, presenting an opportunity for independent slush manufacturers to enter the market and react to the demands of the trade, which included a product of high quality, which was more affordable and flexible.
Accessibility to selling slush historically was also a key factor; driven by the fact Slush Puppie would assess a potential site before a supply agreement was reached in order to ensure a high volume of sales would be achieved from their chosen sites. This restricted the number of machine placements. The other factor that was an entry barrier to many sites was the cost. Albeit in most cases, Slush Puppie would offer a so called 'free on loan' slush machine to suitable outlets, there were always 3 additional cost factors to consider;
1. The initial order and equipment deposit being many £'00's of pounds
2. Each case of slush syrup costing in the region of £100 – £150
3. The contracted tie-in to minimum monthly purchase volumes
So alternative slush suppliers now dominate the UK market. Slush is now one of the few recession proof markets which offer retailers very high margins. For example, a popular size 9oz (270ml) slush drink will cost the retailer around 16p, which includes the slush syrup, branded slush cup and straw spoon. This drink size, if branded, is usually sold for between £1.00-£1.25 within convenience and retail, or higher within the leisure sector. Margins are very high.
But what about the cost of your slush machine investment? There is no authoritative independent market information available in the UK on this subject, so here at SlushCo, we've conducted our own research. This was carried out in 2017 and based on our top 100 slush syrup customers. Of the 100 questionnaires we sent out, we had 43 respondents and a further 29 we surveyed by telephone.
Parameters and questions
Survey was conducted in July, so in effect, mid-summer.
All slush machine customers questioned had purchased a 2x10Ltr slush machine costing £1,650 – £1,850 + VAT
Questions surveyed – 'How many slushies do you sell a day?' and 'At what price?'
We were then able to calculate each sites gross profit with VAT taken into consideration. Of the 72 that did participate, the average time taken to recoup the cost of their slush machine was 49 days. The range was between 26 days to 108 days.
Interestingly enough, we noted that some customers taking around 90 to 100 days, were selling slush at a much lower unit price of around 70p per drink.
Learn more about slush profits here.
Market evolvement in the last 3 years
Many slush 'traders and dealers' have entered the market in recent times. It's a moderately easy market to enter if the plan is to sell cheap, unbranded and inferior products. We estimate that 60% of all slush machines available online, are Chinese imports. Many of these machines are counterfeit copies of genuine European brands and should be avoided.
Examples of cheap fake copies of the Ugolini MT and Carpigiani Spin / Sencotel Granisun, from China. These have a trade cost of just $600 (£400).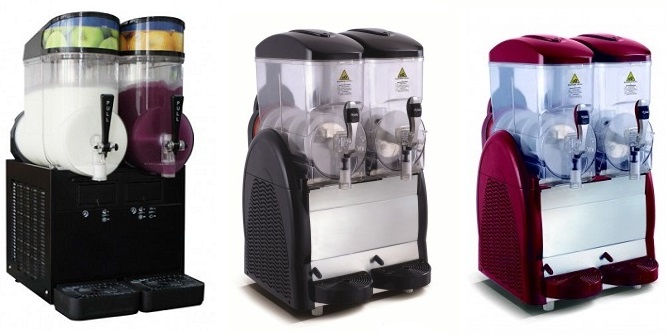 Not convinced? Click here to learn more and see the Chinese fake product range with price guides.
So, thorough research is recommended when choosing a slush supplier. Ask yourself and the supplier these questions;
1. Do they have website and landline telephone number?
2. Are the machines genuine or fake? You may not always get an honest answer so further research may be required.
3. Do their machines cost a lot less than the normal brands?
4. Do they use real sugar in their syrups or are making a substandard product as cheaply as possible?
5. Do they offer a brand solution?
6. Are they reliant on Ebay trading?
7. Do they have field service engineers that can visit your premises, or are you expected to return machines back to base?
8. How long have they been trading? Slush companies come and go regularly.
There are also decent slush companies in the UK, offering a high quality branded solution. Selling slush is very profitable, don't risk wasting your money to save few pounds. Get it right the first time.