Try something new with a Shmoo milkshakes On-the-Go.
The Shmoo vending milkshake station has been designed and developed for use in outlets with self service in mind, where customers operate the machine themselves. Benefit from the fact that milkshake sales are less seasonal than slush and coffee, enjoying a strong demand all year round.
Profit Opportunity Selling Shmoo!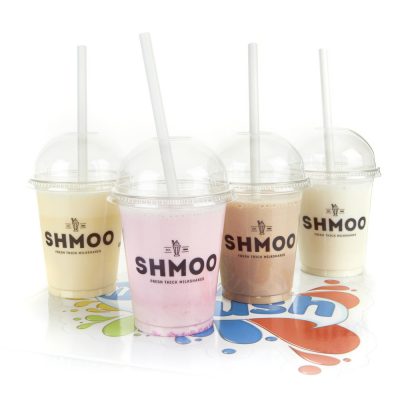 The machine is simple to fill, clean and maintain and is suitable for all kinds of venues, such as education sites, leisure and convenience.
Available as free vend, credit card payment, cash or all three. The machine is illuminated and eye catching, designed to draw attention.
Shmoo milkshakes flavours x4, Banana, Strawberry, Chocolate and Vanilla
No-Touch, Hover Select Buttons
Cashless Payments or Free Vend
12-inch Media Screen (for Video Adverts)
Designed and built in the UK
Small Footprint – Only 50cm wide
School-compliant drinks, 300ml serving
Shmoo milkshakes are gluten-free, suitable for vegetarians, and contain no artificial colours, sweeteners or preservatives.
Uses Shmoo Instant Milkshake Mix
13oz cup servings
45g serving per 300ml shake
Shmoo mix pack size 10x750g bags
166 servings per case
Over £1 per drink profit
Dimensions – Height 183cm x Width 50cm x Depth 67cm
Options – Cup rack or side pod unit
Power – 13Amp
Warranty – 12 Months
Ask about our leasing options, this machine will pay for itself selling from just 4 or 5 shakes a day.
Maximise your sales potential with our bespoke coffee and slush machine solutions. Each solution measures just 50cm in width so you can choose your ideal bundle.