Mr Slush Syrups
Our slush brands are Mr Slush® & Mr Slushed®. Our customers sell millions of our slushies each year and make thousands of pounds doing so.
Professionally manufactured using only the highest quality ingredients and 100% British sugar. No cost-cutting or low-quality artificial sweeteners are ever used in our slush concentrates recipes, our customers love Mr Slush®. Our professional manufacturing process incorporates high-temperature pasteurisation and high-pressure homogenisation which guarantees a consistent and premium product.
We offer a range of 30+ flavours across our range of everyday slush, Mr Slushed® ice frozen cocktails, Mr Slush Smoothies™ and the healthier options with no added sugar, Mr Slush Sugar Free™ and Mr Slush 99% Fruit™ syrups.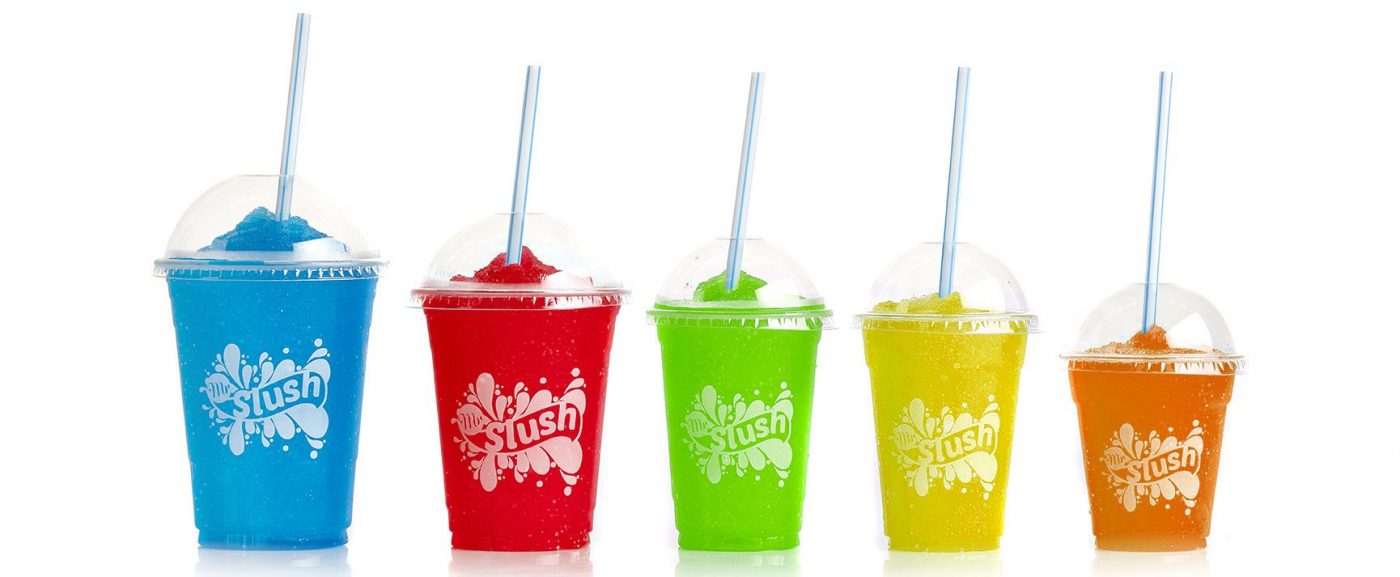 We are confident that we offer the UK market, the highest quality and best tasting drink, at excellent value for money. In fact, we know of no other leading brand that offers our quality and marketing support, at anywhere near our prices. We are unique in that respect.
Selling slush drinks is very profitable, even more so when you sell a brand. For example, a Mr Slush 9oz drink costs just 15p, which includes the syrup, branded slush cup and strawspoon. The average sell price is £1.00 – £1.20.
Did you know that that the cost difference between the illustrated unbranded and Mr Slush branded slushie, is just 2p? That includes the cost of syrup and cup combined. Which drink do you prefer the look of?
When selling a premium branded product, not only can you charge a bit more (therefore making even more profit), you'll also be communicating to your customers that your product is high in quality and therefore will ensure customer loyalty and repeat sales.
What do we mean by marketing support? Quite simply, this is point of sale material, which communicates to your customers that you are selling a quality branded product. Offering your customers a brand gives your slush an identity, character, personality and encourages loyalty, which in turn means repeat sales and more profits.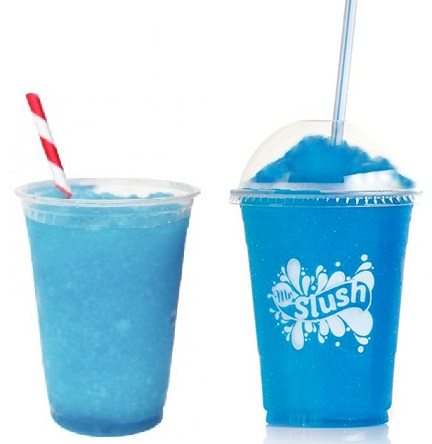 Good branding and point of sale are essential tools to any businesses sales, with the key aim being to direct your customers vision to quality products (and promotions) in the expectation that they will spend more in store. Research has proven that point of sale displays or brand confidence communication, have a tangible impact on sales results by customers who perhaps would spend less should a non branded product with no displayed be offered.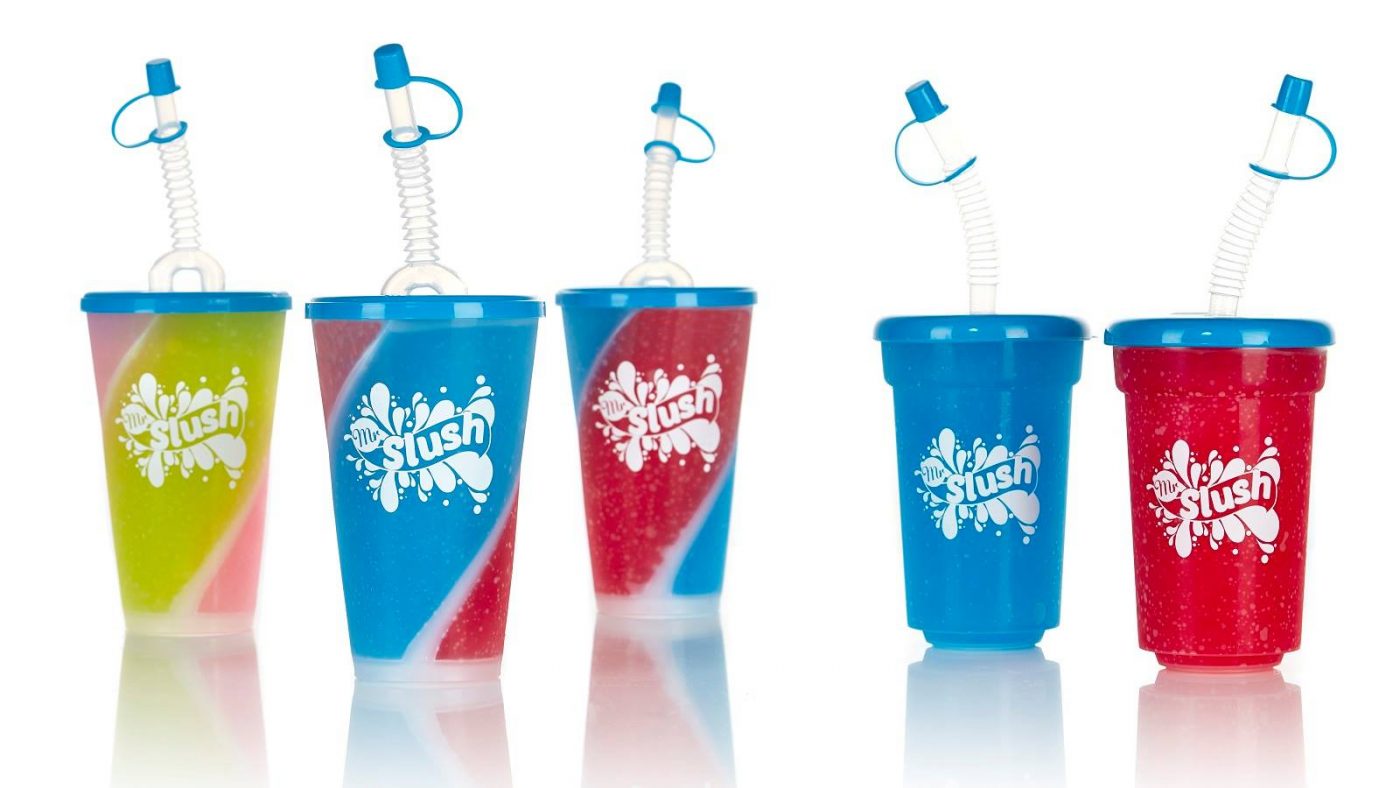 We are also bulk trade manufacturers. We produce syrups for sites with a larger sales base and trade re-sellers, offering the option of branding the concentrate tubs and boxes with your very own brand. Made to order and with a long shelf life, we offer this service in the UK and to export.
Our slush syrups are made using only the highest quality ingredients and with 100% British sugar, ensuring you only ever serve tasty slush drinks your customers will love. Using a modern and sophisticated manufacture process, you can be assured that our syrups consistently deliver to the highest expectations. When you order slush concentrate from us, your product will be freshly produced and arrive with a minimum 12 months shelf life.
Slush syrup has two key components; the base and the flavouring. The base is made from a special syrup that is mixed with water and then frozen. This creates a mixture resulting in pellets of ice in a sweet liquid. The taste is simply the flavoured syrup.
When slush concentrate and water are mixed and poured into a slush machine, the end product temperature should be approximately – 3 degrees C. As most people will know, water freezes at zero degrees. So what stops the water in the slush machine from freezing into a solid block of ice?
The sugar molecules slip between the hydrogen and oxygen molecules to prevent freezing from taking place. Too much sugar and the mix will be sloppy, too much water (or not enough sugar) and the mix will be very thick and can over freeze.
Any mix with lower sugar or too much synthetic sugars can cause the gear motors that you see turning your slush around in the tanks be put under tremendous strain, over time they will fail and this will be a costly repair. Sugar in slush is measured by its Brix content.
Using poor quality cheap slush mix can also cause your machine's compressor to run harder, causing an overheating issue which can cause extensive damage to wiring. Pipes can overheat, and at worst the compressor can fail. This can cost you a small fortune in the long run.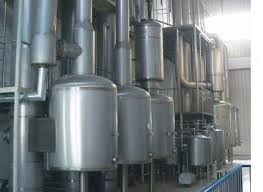 Sugar is the most expensive commodity in slush concentrate, so if you find a product at a considerably cheaper price, you will probably be buying a cheaply produced, lower sugar concentrate.
The maximum water to syrup ratio that can be produced is 7 to 1, however at these levels it's difficult to guarantee the correct freezing results due to the amount of sugar that is required to achieve such results, more about this later. We believe the optimum ratio is 6 to 1, a ratio that is more expensive to produce than lower syrup ratios such as 5 to 1. You'll also benefit from a higher yeild with a ratio of 6 to 1 verses lower ratios, meaning the slush concentrate will go further.
We export our Mr Slush syrups to over 20 countries.