Try something new with a Shmoo milkshake maker, get your investment back before you sell all the products included in this pack and enjoy the extra revenues these will generate, whilst offering a healthy drink alternative to your customers.
Shmoo Milkshake Makers are known for no fuss, no waste and total simplicity of use. They come as complete systems that give your customers delicious and healthy drinks.
The Dinkum milkshake maker and Shmoo milkshake mixes have proved a profitable product for our customers, as apart from the fact they make the best milkshakes we've tested, when you purchase this kit (which includes the milkshake blender discounted by 50%), it will return over £500 in sales revenue. No risk here!
Healthier option to carbonated drinks. When made, Shmoo milkshakes have less than 50% sugar compared to most fizzy drinks and squashes. They are low in calories, low in fat, gluten free and suitable for vegetarians. They also contain natural flavours and colours plus the added goodness of fresh milk so are therefore high in protein too.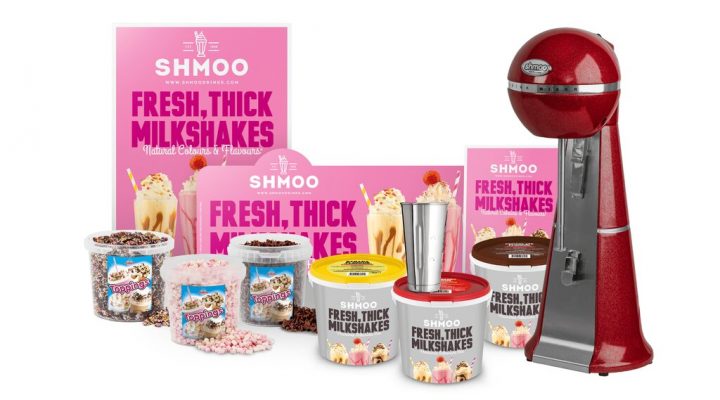 1. Shmoo 13oz Branded Clear Plastic Cups (240)
2. Shmoo 22oz Branded Clear Plastic Cups (172)
3. Shmoo Mixed Size Branded Plastic Cups (80 x 22oz & 120 x 13oz)
Or select 'No Cups' if you'd rather use your own glasses.

Heavy Duty (Cast Aluminium) Milkshake Mixer – 0.35Kw
1×1.8kg of Shmoo Strawberry Milkshake Mix
1×1.8kg of Shmoo Chocolate Milkshake Mix
1×1.8kg of Shmoo Banana Milkshake Mix
Shmoo Clear Plastic Cups & Domed Lids – choice as above (either 1, 2 or 3 or no cups)
Pack of Jumbo Paper Straws
Shmoo Toppings Pack – Rainbow Strands x 500g, Milk Choc Curls x 300g, Micro Marshmallows x 200g
Point of Sale Kit – Menu Board, Counter Stand & Poster
The earning potential is big selling milkshakes. This starter kit, including the machine, will pay for itself in no time. In fact, if you charge £1.50 for a 13fl oz drink, that will generate in excess of £500.00. If you charge £1.95 for the large 22fl oz drink, that too will generate in excess of £500.00.
Ongoing profits are excellent with Shmoo Milkshakes. Unit costs including the milkshake mix, cup, straw and milk just 45p for 13oz and 67p for 22oz.
Dimensions of the Shmoo blender – Height 48cm x Width 18cm x Depth 25cm
Power – 350 Watts
Blender Warranty – 12 Months

Pour ice cold milk up to the marked line on the cups
Add a heaped scoop of the Shmoo milkshake mix
Place onto machine (also included in this package)
Blend for 15 – 25 seconds then add lid & straw and serve…
| | | |
| --- | --- | --- |
|   |   | |
| Fill cup with chilled fresh milk, up to the black line | Pour in a scoop of Shmoo mix and place into the blender | Allow the spindal to mix for about 15 – 20 seconds. |
Check out the new Shmoo Express Vending Machine.