Choosing a Slush Machine
If you've decided to take the plunge and start making huge margins selling slush, you now have a decision to make;
1. Buy on the cheap and hope for the best. More about the pitfalls of this option later.
2. Buy right first time. Go premium with new equipment, backed up with life-time support and sell a quality brand of slush.
Thought of the day; Experienced slush retailers looking for new equipment, always trade up and never ever trade down
Before you make this choice, it will be useful to be armed with some facts;
☞ The UK slush market is worth £450M a year and growing.
☞ Our slush customers earn between £3,000 – £20,000 a year selling slush, the average being £6,000.
☞ Average mark up selling a slush drink is 600% (or 86p profit if sold at £1.20. 20p VAT and product costs deducted)
☞ Most of our customers pay for their entire slush machine investment within 2 months.
☞ 80% of slush machines available to purchase in the UK are cheap Chinese imports, many fake copies of genuine brands.
Our range of slush machines are the genuine global brands leaders, Sencotel and Ugolini. Manufactured to the highest standard, our machines are robust, reliable, designed to last 10 years and are fully backed up with our dedicated telephone service help-line, on-site parts and labour warranty plus life-time support.
Our premium high end slush machines

What makes our slush machines a cut above the rest?
✔ Quite simply, our machines are built to last 10+ years. Performance and reliability is key when selling slush
✔ Affordable – Lease options available + optional 2,000 drink starter pack
✔ High grade materials used in the construction
✔ Hermetic compressor featuring environmentally friendly refrigerants
✔ Independent tank settings and night mode settings
✔ Low power consumption, the twin tank for example is just 650 watts
✔ Stylish – Eye catching, looks superb, available branded or unbranded
✔ Same day dispatch
✔ Warranty – 12 months on-site parts and labour warranty and equipment lifetime support
You'll enjoy complete peace of mind when you purchase a slush machine from SlushCo. We're here for the lifetime of your machine. In most cases, we can resolve any issues over the phone and if not, we have a national field based engineers always at hand. This support and assistance goes beyond any warranty period.
As 80% of all new slush machines now available in the UK market are cheap Chinese imports, many of which are fake copies of genuine brands. We do not entertain or sell low quality, inferior equipment.
If you are new to the idea of selling slush, you may be browsing around the net and speaking to a few slush companies seeking advice and prices on their slush machine range. This can be confusing, so in an attempt to offer some clarity, we have detailed an explanation of the different types of slush machines available in the UK and how they can differ in performance.
Price points quoted below are average prices and based on a twin tank slush machine (2 x 10Ltrs).
Low quality machines, proudly described as 'Cheap' by some slush companies. Costing around £1,000 – £1,300, many of these machines tend to be imported from the far east, mainly China. They are often poor quality copies of the genuine premium brands such as Ugolini and Carpigiani.
Advantages – They are cheap.
Disadvantages – They are cheap. The engineering quality is poor, motor gear boxes are weak, they consume more power and don't last. Getting engineers to repair these or sourcing spare parts is a real issue. In summary, they are a complete waste of money.
Example of cheap, fake, Chinese slush machines. These may look cosmetically ok, but are not genuine brands. Easily accessible to the trade on Alibaba at approx just $600 or £400 and sold on with big profits. Click the image to learn more.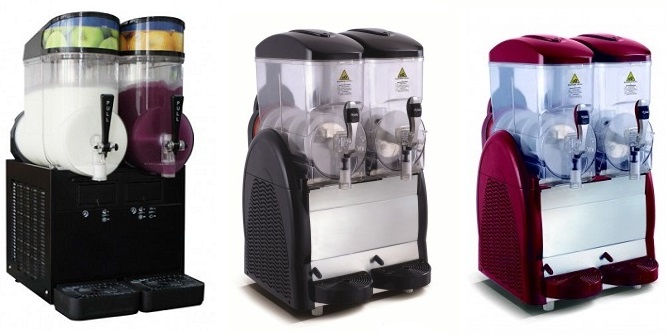 Mid range machines Costing around £1,200 – £1,400. Some of the machines in this range are ok and on the whole do what is required of them, but with some limitations.
Advantages – Affordable
Disadvantages – Plastic base construction or casing, longer freezing time, some offer just a single temperature setting or don't offer independant tank settings (1 switch controls both slush tanks), limited warranty, usually a return to base so longer down time with servicing issues, less power efficientcy than Sencotel, many of these machines last on average 3 years, but have been known to last longer.
Premium machines such as Sencotel and Ugolini. These machines will cost in the region of £1,550 – £1,800. The only brands our business sells and both brands are in high demand.
Advantages – Superior build quality, more stainless steel and less plastic. Performance, speed of freezing, lower power consumption so efficient, built to last 10 years, full on-site warranty, multiple temperature settings, multiple beverage options, night mode setting, will freeze alcohol for cocktails, superior motor gear box, with only 3 failures in the last 15 years and thousands of machines sold.
Disadvantages – Higher entry price point than cheaper alternatives, but offer much better value for money.
We receive an average of 50 calls each month from sites who have purchased cheap, substandard slush machines elsewhere, asking us to repair them or supply parts. We do not repair other companies' machines.
In summary, we recommend that when you buy a slush machine, buy premium and get it right first time. Huge margins are available to you selling slush, even by selling just 25 drinks per day, that equates to £5,000 profit per year. Don't fall into the trap of buying a cheap machine and wasting your money.