Strawberry Daiquiri Slush Syrup 4x5Ltrs
More than just a simple slush syrup flavour, Mr Slushed Strawberry Daiquiri slush concentrate is a premium product. The best seller in our range.
A complex 2 step manufacture process incorporates high-pressure homogenisation, which in turn produces a consistent superior quality concentrate. This manufacturing procedure ensures adding water and spirit to the mix creates a perfectly formed frozen cocktail drink, direct from your slush machine tank.
Our Strawberry Daiquiri is an authentic based flavoured syrup that you simply mix with water and brown rum.
A 4x5Ltr case of Strawberry Daiquiri Slush Syrup will yield approximately 600 alcoholic slush cocktails or 700 non alcoholic mocktails. That's a cost of around 10p per drink.
We supply bars, pubs, restaurants and licensed convenience stores with our leading cocktail slush package, who in turn charge between £4.00 – £6.00 for alcoholic based slushie drinks. Selling slush cocktails is very profitable.
Making Strawberry Daiquiri slush cocktails is easy. The concentrate is 6:1 dilution ratio if cocktail are served or 4:1:1 for cocktails. Simply fill your slush machine tank with 1 part Daiquiri slush syrup, 1 part alcohol (brown rum) and 4 parts water (ratio's may vary slightly depending on the brand of alcohol). Switch your slush machine to freeze mode and dispense as a finished alcoholic cocktail when frozen.
Our Cocktail Range of Slush Syrups: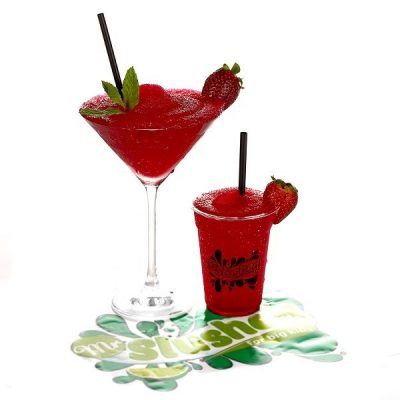 Margarita
Pina Colada
Strawberry Daiquiri
Gin & Tonic
Energy
Prosecco
Mojito
Neutral Base to make your own cocktails
Looking for a cocktail slush machine? We offer a premium range designed for this product.