Sencotel G5 Mr Slush Machine – 2 x 5Ltrs
Designed to optimise space and freezing times from Sencotel technology, the slush machine G5 twin tank model is a compact slush machine with great features. Practical, powerful and reliable with up to 30% reduction in space occupancy, compared with larger twin slush machines.
Maximum hygiene performance, thanks to its bell shaped tap: the slush dispensed does not touch the inner surface of the dispensing tap.
Why buy this slush machine bundle?
❆ Heritage – Our best selling machine range over the last 20 years. Genuine European brand.
❆ Performance – High volume capacity, powerful, robust, reliable, independent tank settings, multi-use, expect 10+ years of usage.
❆ Stylish – Eye catching, build quality noticeable and looks great when branded.
❆ Warranty – Up to 36 months on-site parts and labour warranty + equipment lifetime support.
❆ Flexible – Lease options available + optional drink starter packs worth up to £2,500 at retail which pays for your investment.
❆ Delivery – Next working day delivery on a mini pallet. Ready to use.
❆ Efficiency – Only 560 Watts, inexpensive to run. Easy to clean and maintain.
This machine is also capable of producing alcoholic based iced slush cocktails such as Margarita and Daiquiri.
By offering you customers a premium slush brand, such as Mr Slush, you will benefit from customer loyalty, sell more beverages and make higher margins than unbranded cheap alternatives. Mr Slush is a recognisable leading brand, made using high quality ingredients that delivers superior quality, tasty slush drink. Millions of our slushhies are consumed every year in the UK.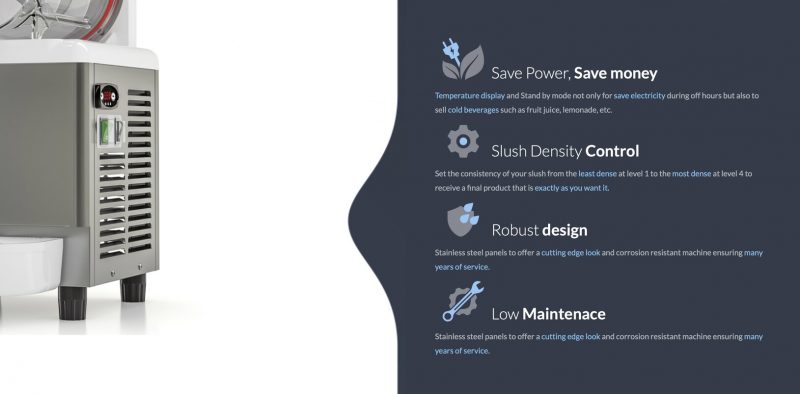 G5 Twin Tank Slush Machine Key Features:
❆ Compact dimensions W 40cm x D 40cm x H 63cm
❆ Night time energy saving setting
❆ Independent tank settings
❆ Adjustable product density settings
❆ Efficient low running cost
❆ Drip tray 'full' indicator
❆ Easy clean assembly
❆ High quality components
❆ Stainless steel panels and evaporator
❆ Heavy duty motor gear boxes
❆ Sealed compressor
❆ Environmentally friendly refrigeration
❆ Air cooled
❆ Improved hygiene with bell shaped taps
Dimensions – W40cm x D40cm x H63cm
Power – 560 watts
Choose your ideal starter pack
No starter pack
Choose your own bespoke order separately
1,000 drinks starter pack 
Mr. Slush Syrup – 6 x 5 Litres
Slush Cups any size x 1,000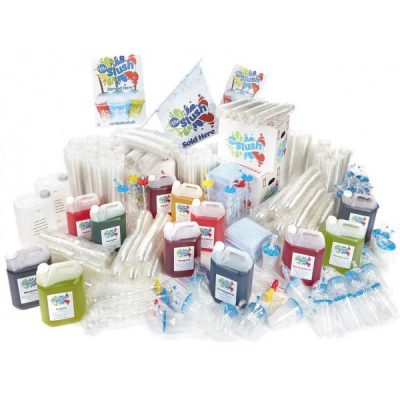 Dome Lids x 1,000
Slush Straws x 1,000
Point of Sale Pack Posters + Optional Machine Branding
Mixing Containers x 2
Maintenance Kit
2,000 drinks starter pack
Mr. Slush Syrup – 12 x 5 Litres
Slush Cups x 1,000
Dome Lids x 1,000
Slush Straws x 2,000
Point of Sale Pack Posters + Optional Machine Branding
Mixing Containers x 2
Cleaning and Maintenance Kit
1 Year On-Site Parts and Labour Warranty plus Lifetime Support
3 Year On-Site Parts and Labour Warranty plus Lifetime Support if you are exclusively buying our slush supplies