Granisun Fast Freeze Slush Machine 2 x 12 Litres – 2,000 Mr Slush drinks pack included
The UK slush market is buoyant and continues to grow, the value is estimated to be worth £450M per annum.
Slush sales usually forms an essential part of our retailers sales and business profits so carefully choosing your slush supplier is an important decision to make. Selling a quality slush beverage will reward you with generous profits. Mr Slush retailers enjoy 86% P.O.R. Other considerations include the quality and reliability of the equipment, the warranty and service offered, including which parts are covered or excluded and of course the quality and taste of the slush drinks you are serving.
Our customers are making large profits selling Mr Slush. By invested in a premium slush machine, you'll enjoy reliability, performance and second to none service response support. When you buy a quality slush machine from us, you'll be receiving more that just a machine in a box. Mr Slush retailers benefit from repeat customer loyalty, selling more beverages and making higher margins. Mr Slush is a recognisable leading brand, made using high quality ingredients that delivers superior quality, tasty slush drink. Millions of our slushies are consumed every year in the UK.
The Granisun Fast Freeze by Sencotel, also known as the Carpigiani Spin slush machine. Featuring 12Ltr tanks and an attractive blue colour rather than black, the fast freeze comes as standard with this machine. A high performance, multi-freeze premium machine, Designed to last 10+ years.


The slush tanks contain a total of 24 Litres of product which freezes down within just 40 minutes from ambient temperature. They contain up to 120 slush drinks (200ml) or 72 slush drinks (385ml).
Why buy this slush machine bundle?
❆ Heritage – Our best selling machine range over the last 20 years. Genuine European brand.
❆ Performance – High volume capacity, powerful, robust, reliable, independent tank settings, multi-use, expect 10+ years of usage.
❆ Speed – Fast Freezing as standard. Freeze time just 40 minutes
❆ Stylish – Eye catching, build quality noticeable and looks great when branded.
❆ Warranty – Up to 36 months on-site parts and labour warranty + equipment lifetime support.
❆ Flexible – Lease options available + up to 2,000 drink starter pack worth up to £2,500 – £3,000 at retail which pays for your investment.
❆ Delivery – Next working day delivery on a mini pallet. Ready to use.
❆ Efficiency – Only 800 Watts, inexpensive to run. Easy to clean and maintain.



The Granisun Spin is extremely versatile and is mainly used for the preparation  the following frozen drinks:
❆ Frozen Slush Puppy Style Drinks
❆ Frozen Cocktails (Alcoholic & Non) i.e. Margarita Frozen Cocktails
❆ Frozen Fruit Drinks & Smoothiesv
This machine is also capable of producing alcoholic based iced slush cocktails such as Margarita and Mojito.
We offer a range of purchase options such as outright purchase, lease rental and lease purchase.
Granisun Features
❆ Digital temperature display and night time temperature adjustment
❆ Independent tank settings
❆ Patented thickness control for freezing settings
❆ Efficient low running cost
❆ Drip tray 'full' indicator
❆ Easy clean assembly
❆ High quality components
❆ Self closing non drip serving slush taps
❆ Heavy duty motor gear boxes
❆ Sealed compressor
❆ Environmentally friendly refrigeration
❆ Air cooled
❆ Illuminated slush tank lid
Dimensions – W47cm x D55cm x H81cm
Power – 800 watts

2,000 drinks included with this slush machine bundle;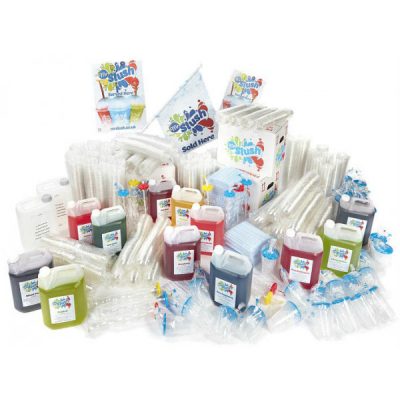 Mr. Slush Syrup – 12 x 5 Litres
Slush Cups x 1,000
Dome Lids x 1,000
Slush Straws x 2,000
Point of Sale Pack + Optional Machine Branding
Mixing Containers x 2
Cleaning and Maintenance Kit
1 Year On-Site Parts and Labour Warranty plus Lifetime Support
3 Year On-Site Parts and Labour Warranty plus Lifetime Support if you are exclusively buying our slush supplies