Slush Syrup – Orange 4x5Ltrs – Short Dated (Dec 16th 2023)
Orange is always a popular, well-loved flavour for sweets and drinks, the orange slush drink is no exception. The bright, cheerful colour and flavour of an orange slushie drink is perfectly reminiscent of sitting on a sunny beach. A popular choice, our orange slush is made using 100% British sugar, and absolutely no artificial sweeteners. This gives the drink a beautifully authentic citrus taste.
Mr Slush Orange concentrates are made using only premium grade ingredients and with 100% real sugar. We do not use cheaper ingredients such as sweeteners or synthetic sugars. The sugar we use in our slush mix is 100% British. Why is using real sugar important? Natural sugar ensures the slush is frozen down to the correct consistency and creates a softer slush mix that will not put the slush machine motor gear box under duress. We do not make or sell 'Cheap Slush'.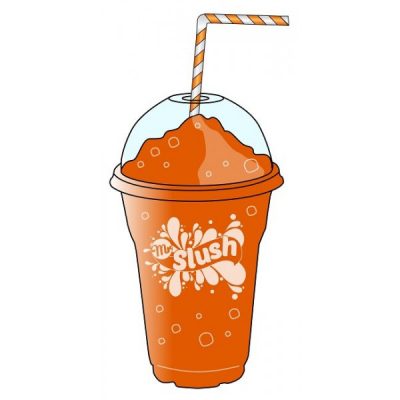 Mr. Slush Syrups are superior quality which will give your customers a beautifully tasty sweet iced cold drink. A refreshing slush drink that retains its flavour and colour down to the last drop.
Higher Yield  per Case
Our superior quality concentrated slush syrup have a dilution ratio of 6:1.For every 1Ltr of slush syrup you pour into your slush machine tank, you add 6Ltrs of tap water.
❆ Each 5Ltr tub will produce 35Ltrs of slush drinks
❆ Each 4x5Ltr case will produce 140Ltrs of slush drinks
❆ Your £60 case investment will return revenues of between £600 – £700
❆ Mr Slush retailers enjoy the highest POR of 86%
Cheap slush syrups have lower sugar which can put your motor gear boxes under more duress. Many have multiple E numbers, don't taste as good, yield lower profits and don't encourage the same loyalty and repeat sales. Don't be tempted to shave a penny or 2 off your costs, margins are huge.
| CUP SIZE | CASE DRINKS | CUP COST* | SELL PRICE |
| --- | --- | --- | --- |
| 7oz – 200ml | 700 | 16p | 85p – £1.00 |
| 10oz – 300ml | 475 | 21p | £1.00 – £1.25 |
| 12oz – 385ml | 375 | 24p | £1.25 – £1.50 |
| 16oz – 480ml | 300 | 29p | £1.50 – £1.95 |
*Cost includes the syrup, branded slush cup and straw.
Your Profits
Make 86% POR or 600% margin selling Mr Slush drinks.
Our customers retail their slush drinks for between £1.00 to £1.50 so profits and margins are high. Selling just 25 slushies a day will deliver £675 profit each month charging an average of £1.25 per slush drink (9oz-10oz size). That's after product costs and VAT is deducted. Profits are higher if selling larger sizes.
Bursting with flavour, bursting with options
We manufacture a wide range of popular slush syrup flavours including Blue Raspberry, Strawberry, Lemon and Lime, Sour Apple, Orange, Sour Cherry, Orange and Mango, Pink Bubblegum, Iron Brew, Tropical, Cola, Mixed Fruit, Pineapple, Kola Kube, Strawberry lemonade, Cotton Candy, American Grape, sherbet Lemon and a Neutral Base slush concentrate.
Brand your slush drinks using our Mr Slush cups, a full range of sizes are available.
Bulk ordering of 20 case and 40 case (1/2 & full pallet) options available. Save up to £750. We manufacture to order with a delivered lead time of just 5 days.
Orange Specifications and Nutritional Information
– UK Made using British sugar
– No artificial sweetners are used in our recipes
– Suitable for Vegetarians
– Zero Fat
– Gluten & GM Free
– 47 Calories per 100ml