The Ciao VX1 is a stunning Bean to Cup commercial coffee machine, featuring all the latest technology to guarantee high quality espresso based, coffee shop quality drinks.
Self service solution suited to convenience stores, cafes, restaurants, hotels, pubs/bars, takeaway, offices and retail.
The 'High Pressure' brewing system ensures that coffee shop quality coffee is produced at the touch of a button.
Due to the precision components and design, the VX1 is the perfect Bean to Cup Coffee Machine for medium to high usage sites looking to provide customers and staff with a premium Espresso, Cappuccino, Latte, Flat White, Mocha or Hot Chocolate.
Serving Station Features;
✔ Powder coated (semi gloss ripple finish)
✔ Cup dispenser unit
✔ Accessories tray
✔ High impact 'Ciao' graphic branding
✔ Lockable storage cupboards
✔ Supplied fully assembled as a single unit and on a bespoke pallet. Pack panel requires attachment. 4 screws supplied
✔ Specifications; Width 50cm x Height 200cm x Depth 74cm.
Ciao Coffee Machine VX1 Features
✔ Smoked glass contemporary finish
✔ Touch screen and distance selection interface. No contact required.
✔ Twin pouring spout
✔ LED drink button icons
✔ One touch operation
✔ LED lit drink preparation area
✔ Easy to clean and maintain
✔ Customisable mood lighting
✔ Fast beverage dispensing
In addition to the elegant smoked glass door and user-friendly touchscreen, the VX1 also boasts customisable mood lighting which guides the user through a simple and pleasing experience, perfect for a Self-Service environment.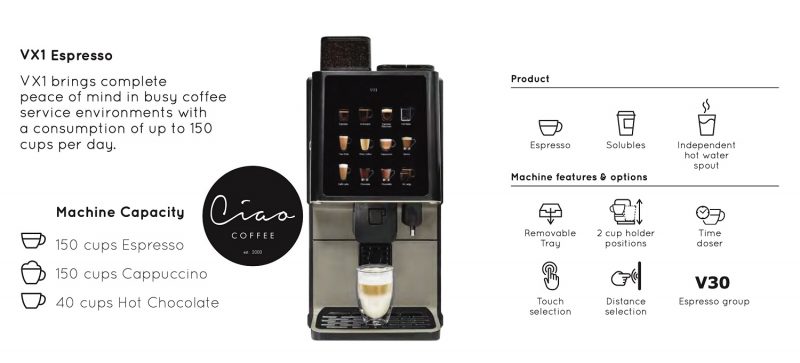 VX1 is an elegant and contemporary looking compact coffee machine that has been developed with attention to detail and with the best material finishes, providing it with a unique premium identity. Its design compliments any area in an office, hotel, leisure centre or convenience store.
Easy to use and maintain which delivers consumers with a consistent high street quality coffee drink. It offers velvety chocolates and the very best coffee preparation, from the bean to the cup. A full process of coffee grinding, tamping and brewing are made automatically in a matter of seconds – leaving the consumer with the most important job – enjoying a great coffee.
The independent hot water serving area allows the consumer to prepare tea & delicate infusions simply with fresh hot water dispense.
The VX1 can either be plumbed into mains (water filter kit supplied), or operated using a pump and tank kit (which sits inside the serving station out of view).
What you receive;
Ciao VX1 Bean to Cup Machine
✔ Delivery, Installation and Training
✔ 2,000 x 12oz Drinks Bundle – Worth £3,000 – £3,500. Including;
✔ 20 x 500g Award Winning Espresso Beans – 1,500 Coffees
✔ 250 Fair Trade Organic Teas
✔ 500 Hot Chocolate Drinks
✔ Freeze Dried Milk – 500 Servings
✔ 1,000 'Ciao' branded Takeaway Coffee Cups
✔ 1,000 Coffee Cup Sip Lids
✔ Main Water connection Kit + Water Filter OR Pump & Tank Kit (+£250)
✔ Ciao Point of Sale Pack
✔ Engineer installation and training
✔ 1 Year Warranty + Lifetime Equipment Support
Profit illustration;
Coffee drinks 12oz re sold for £1.50 on average. Subtract VAT at (25p) and product costs (20p complete cost), the drink profit is £1.05. 84% P.O.R.