The history of slush
First of all let us look back to the 1970's when the slush story began. In the USA, Will Radcliffe launched Slush Puppie, a brand we are all probably all aware of. He quickly pioneered this market and within a few years had established a global slush brand, operating in more than 40 counties.
Due to the market growth at a rate Slush Puppie could not keep up with, many other slush syrup manufacturers then entered this lucrative market, offering a similar but accessible opportunity for retailers to take advantage of such a growing business.
The market size
So here we are today, with a slush market worth £400M in the UK alone, it is clear that selling slush is a great way to add incremental sales and profit to anyones business.
What's slush exactly?
But what is slush syrup? Well it has 2 components, the base and the flavour.
The base is made from a special syrup that is mixed with water and then frozen, resulting in pellets of ice in a sweet liquid. The taste is simply the flavoured syrup. The process can be achieved the correct way, using only quality ingredients and premium flavourings with the optimum amount of sugar.
Sugar is a key ingredient, and an expensive one.
The sugar molecules slip between the hydrogen and oxygen molecules to prevent freezing from taking place. Too much sugar and the mix will be sloppy, too much water (or not enough sugar) and the mix will be very thick and can over freeze.
Slush concentrates with lower sugar or synthetic sugars can cause the gear motors to be put under tremendous strain and potentially fail. Not exactly convenient when you have invested a small fortune on your slush machine, but a mistake often made by retailers motivated to save a penny or two on a slushie portion.
Our syrups are made to the highest standards
we understand the science behind the manufacture process and we know that quality sells. Our slush concentrates ensure your customers enjoy a beautiful, fruity slush drink which retains its colour and flavour right down to the very last drop.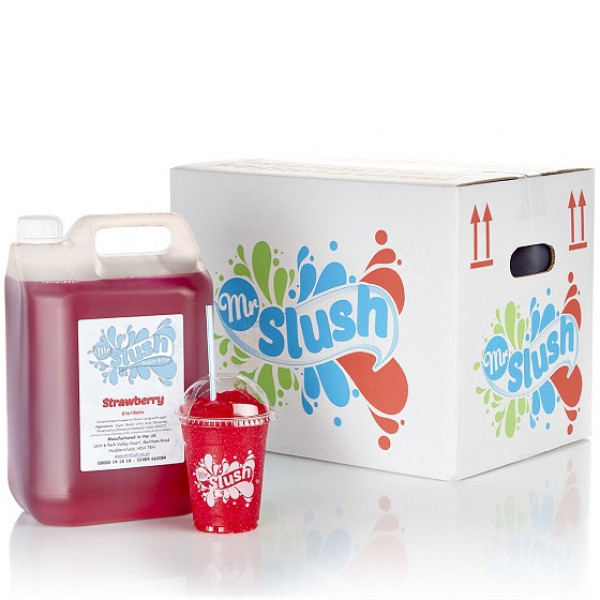 Profits
Your profit margins are big on slush, if you consider that a 200ml slush drink in a cup with a strawspoon and UK VAT taken into account, will cost you no more than 16p and which retails for between 85p to £1.20, you can see the appeal.
Learn more about slush syrups by clicking the link.
We offer a large and premium range of slush concentrates, with a syrup to water ratio of 6 to 1. The best selling flavours are Blue Raspberry and Strawberry which are complimented with other flavours such as Lemon & Lime, Orange with Mango and Sour Cherry plus many more.
Our cocktail syrups have proved more and more popular with flavours such as Margarita, Strawberry Daquiri, Pina Colada and Energy. This range allows you to make alcoholic slush cocktails by simply adding water and the spirit of your choice.